Finding new fruit choices at your local grocery store | News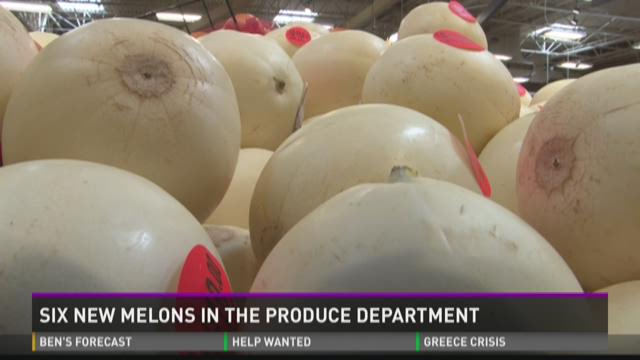 Foodies can find all kinds of cool things at the grocery store.
We found some new softball shaped fruit in the produce aisle at a local grocery store.
At the Kroger on Tom Hill Boulevard in Macon, the store manager says you have 50,000 products you can throw in your basket.
But it's the produce department that's got folks talking about new choices.
Department manager Richard Hill says he finds out about new products through email, he says it's very interesting.
He showed us the real stuff that now sits on his produce shelves. They come with names like Spritzer melon, Casaba melon and Tuscan melon.
Hill who has worked for the same Kroger over two decades knew he'd have to dole out some education when it comes to the melon merchandise, specifically on how to tell if the fruit is ripe.
"I see a lot of people smelling them, you can smell them but most of the time you can tell by touching them," Hill said and went on to explain you should be able to lightly indent the end of the melon.
I asked Tracy Coyle, who was filling her cart if she had ever heard of a Sprite melon.
"Sprite? No, is it like the soda," she questioned.
Coyle hasn't tried the pale fruit that Hill says tastes a little bit like a pear, but she is no stranger to some of the other selections.
" I bought one of the Casaba melons last week, and it was the most amazing thing. The meat was so tender. The spoon just slid through it," she explained.
Hill says the fruit with foreign names is American grown, and they've been around for a couple of years, but this season folks seem to have caught on to the concept.
"This year has been just booming everybody's just talking about them," Hill said. "I think people have been looking on the internet for them."
Well, no need to look anymore.
"There are so many different melons this year, it's interesting to have a choice," Coyle said with a smile.
Hill says folks are also interested in this stuff because in general melons are chock full of vitamins B and C.