Macon-Bibb drones not for spying, builder says | News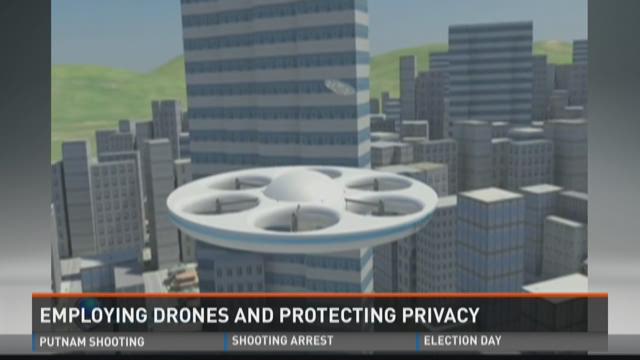 A new piece of drone technology is now one step closer to becoming the norm in how Macon-Bibb leaders tackle emergencies and disaster.
That's after a five-member committee unanimously approved a $5.7 million contract Tuesday morning, the first step in launching the project of E-911 drone use.
"This is not a little toy airplane. This is a real aircraft that will have a [Federal Aviation Administration] tail number certification no different than a Boeing jet or helicopter," Olaeris CEO Ted Lindsley said.
Macon-Bibb considering drones for emergency management
The Aerial Electric Visual Assistant (AEVA) is an advanced piece of technology, different from the kind of gadgets the public typically envisions when they think of drones, Lindsley said.
It's a tool that aviation and Macon-Bibb County officials hope will be the future of emergency response.
"I think it'll be more common as flying a bird around," Kip Blakely, the vice president of Haeco, which is also partnering on the project, said.
But some people are concerned the use of drones could expand to become a surveillance gadget.
"This is not a spy or surveillance drone," Lindsley said.
Lindsley said AEVA will only respond to emergency situations, like break-ins, robberies, fires and accidents.
One 50-pound drone is about the size of a king bed, Lindsley said, and can arrive anywhere in the county in between 90 seconds and four minutes, doing the work of six to eight people in less time.
"The drone will launch, navigate, arrive, return home, land and recharge by itself with no human intervention," he said.
If anything, Lindsley said, the system will be more transparent to the public, because all of that flight information will be accessible online.
"If you ever had a concern, 'Oh, I saw that over my house, I wonder what that was doing,' you can look on the Macon-Bibb website. Almost in real time, it will publish exactly who flew it, when, where, why and how," Lindsley said.
Plus, Macon-Bibb's EMA director, Don Druitt said the county will form an independent drone-oversight committee.
"If there were any breaches of that type of privacy, it can be reviewed," Druitt said. "This is another useful tool in our tool box."
"What we hope to demonstrate is that this technology can be integrated to serve the public while under the supervision of those same citizens," Lindsley said.
The decision to enter into a contract with aviation companies Olaeris and Haeco isn't final until the full nine-member commission votes next week.
Lindsley said the company is scheduled to begin production of the AEVA aircraft by the end of the summer. Once that's complete, he anticipates the fleet will begin to fly overhead in Macon-Bibb in two years or less.
Follow 13WMAZ's Anita Oh on Facebook at Anita Oh WMAZ and on Twitter @anita_oh.